Hi Everyone!
The Schnibble for May is Gentle Art.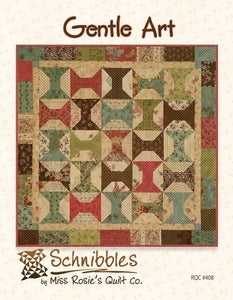 If you are interested in joining in, you can get the pattern
here
if you can't find it locally. All you have to do is make your version and then email
Sinta
and
Sherri
and they will give you the details.
You don't need a blog, either!
I have had this pattern for a while and it has been high on my "to do" list, so I was glad to finally have an excuse to make it. I immediately considered fabric possibilities. Obviously it would be fun to make with sewing/quilting themed fabric, and there are many fun lines out right now. Before I purchased anything, though, I went through my stash of charm packs. I'm afraid that since beginning to "Schnibble" I have managed to acquire quite a pile of them. As I perused them, I remembered that I had some from the Fellowship line by Brannock and Patek. I think the title of that line was exactly what I had in mind. Lately I have been mentioning how important quilting friends are to me, so Fellowship was perfect!
Along with the charm packs, I usually get a little yardage, and in this case I had the solid background, and beautiful floral, and another coordinate. In the pattern, the idea is to use light charm squares for the block backgrounds and use leftovers for a scrappy border. There weren't enough light charm squares in this collection, so I used the background yardage. I did use the light charm squares for the inner border, though. I used the gorgeous floral for my border, cutting it a bit wider than the scrappy border would have been. I can hopefully use the leftover charm squares that would have made the border in a Little Bits pattern.
I love the way it turned out and the story it tells--of the friendships made through sewing. I plan to get it quilted and bound by the end of the month in time for the parade, so you may see it again.
Have a great day!
JoAnne