Hi Everyone,
Did you all have a marvelous National/International Quilting Day? I spent it at an antique show and a Civil War battlefield. I didn't take so much as one stitch! I usually spend my weekends with my husband--so I don't often quilt on those days.
On Sunday, my husband seemed a bit bored, so I got him to help me with a project for my quilt room. If you have been following me for a while, you may remember my post about my quilt room after we got moved in and settled. If you haven't, you can read about it
here
.
I have loved the room and haven't made too many changes. I could always use more storage, though (can't we all?) and I found this
blog post
on pinterest. If you scroll about halfway through, you will see this picture.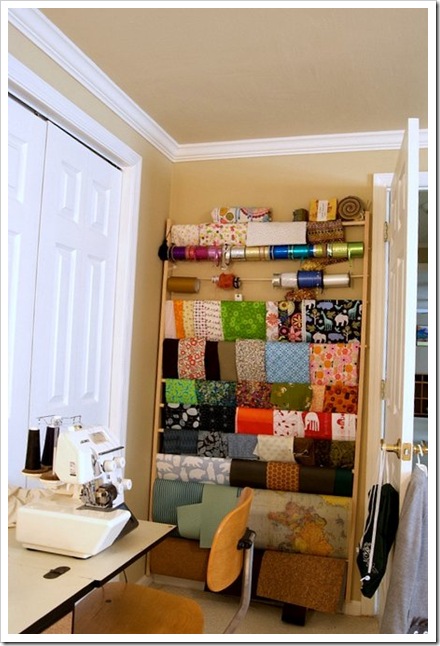 The photo is linked to a blog, but try as I might, I couldn't find out anything about this rack thing. Isn't it cool? In my quilt room, I have this area:
See how the wall with the two quilts is "free" but there isn't much clearance for anything to be up against it? I thought that "rack" would work out great here. I did some figuring. The wall is just over 4 feet wide. I decided that we could make one pretty easily. We bought 3 1x4s that were 6 feet long. One of them was for the top, so my husband cut it to 4 feet. (You can also have them do it at the home improvement store. We got our stuff at the "blue" one, not the "orange" one.) The rack would be six feet high and 4 feet wide. I decided on having 8 dowels for the "rungs." Why 8? It just seemed right. We got dowels that were 3/4" thick and 4 feet long. Again, it seemed right--not too thick, and not too thin. I took one of the side boards and marked it. First I marked where I wanted the top dowel to be, and then the bottom--you don't want one too close to the floor! Then I split the difference between so I had eight marks for the holes. My husband has a spade drill bit that drills 3/4" holes--that is a necessary item! This next step is important, too. Clamp both side board together with the marks on top and drill all the holes through both boards at the same time so they are perfectly spaced! We sanded and then he screwed the sides onto the top. Next we put most of the dowels in (to help stabilize it) and took it to the wall to position it. We marked where we wanted it to be and set it aside. To hang it, we took a piece of 2x2 and screwed it into studs along our marked line. Then we sat the rack on it and screwed up from the bottom of the 2x2 into the top of the rack. That was it! It took about an hour and a half and all the stuff cost less than $36! If we weren't renting, I would have painted it, but I didn't want any paint to rub off onto the wall.
Here it is!
See all the stuff I started putting on it? I have lots more room, too.
Here is the top. Can you see the darker board? That is the 2x2 that it is mounted to. The top makes a nice shelf for display!
Right now, I have put up unquilted tops, blocks for on-going projects, and other incomplete projects. I also have a partially used jelly roll hanging there.
This is going to be great when I'm doing a project with lots of strips and strip sets. Also, it will be a great place to hang borders, etc. I'm just thrilled with the added storage!
I hope you all have a great day!
JoAnne