Hi Everyone,
I have not been quilting as much as normal yesterday and today. I really need to do some much-needed housework. I'm assuming that you don't want to hear about that, so I thought I would share a bit about an ongoing project.
The Scnibble pattern for the Vintage Schnibbles parade this month is
Lincoln
.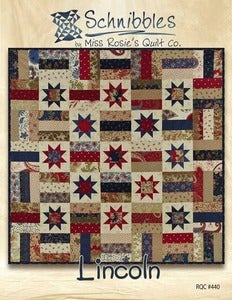 I have been wanting to make this pattern for ages. Can you see that it consists of star blocks and rail fences--stars and stripes! I even have some perfect charm packs--Old Glory Gatherings. But then a different idea started germinating in my brain and I have pursued that. I'm thrilled with how it is turning out.
It is competed and layered and waiting to get quilted. Hopefully I can get the toilets scrubbed today with enough time left to do some free-motioning.