Hi Everyone,
Boy was yesterday an exciting day. First of all, theApril block pattern for the Blogger Girls Block of the Month was posted. I know I have mentioned it a lot the past week or two, but just in case you don't know, it is a free BOM being offered by Monique Dillard at Open Gate Quilts. You can read about it
here.
If you aren't interested now, but are considering it, the patterns are free for a few more months and you can go get them.
This month's blocks seemed a little bit more "fiddly" than usual, but they were by no means difficult. It was fun to select the fabrics. Remember that you can make just one block for a smaller quilt, or you can make two for a larger one. The idea for the second block is that you manipulate the fabrics so that the second block looks totally different from the first one.
Here is my first one. As always, I included a bit of focus fabric in the middle.
Here is the second version. Sometimes I have the focus fabric in the second one, and sometimes I don't. I didn't here. I love how different it looks from the first one!
I spent the morning working on these and then I took a break and read some blogs. I had just taken a sip of tea as I was reading Thelma over at
Cupcakes 'n Daisies
when she mentioned my blog! She is one of the Blogger Girls helping with the BOM and she mentioned that I had made sashing AND she linked back to my tutorial from last week. Well, I nearly spewed my mouthful of tea onto my computer! I had no idea she even knew about my blog.
The next awesome thing was all the comments that I got on the blog yesterday about how I use small quilts! It was a last minute idea to post and I really just ran around in my pjs taking some quick pictures. Thanks for your comments! I really appreciate all of them.
Finally at around 5:30 or so, came the thing I was waiting all day for. The new Schnibble was announced! The new "theme" is going to be Vintage Schnibbles and we will do some of the older patterns. I have had several people ask what it is all about and here are the details:
Sinta
and
Sherri
have the details at their blogs so you can click on their names and read more about it. Basically, they announce a Schnibble pattern by Carrie Nelson at Miss Rosie's Pattern Company and everyone makes a version of it during the month. When you finish prior to the last day of the month, you send a photo and a link to your blog post about it (but a blog is NOT necessary) and they post them on the first of the next month. It is so much fun to see all the different versions! Sometimes people alter the pattern and make a runner or make other changes. I love seeing all the different fabrics and colors used. Often the participants are put in for a drawing and can win a prize, so that is exciting, too. The good news is that you can get the pattern at Carrie's website
here
as a PFD that is instantly delivered via email (or you can get a paper version and wait for the mail) so you all could join in.
The pattern for this month is Hat Trick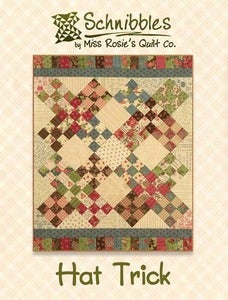 I love nine-patch so this is going to be fun! The patterns are designed to use charm packs (each one usually requires 2 packs) however, by no means do you have to use them. You can use fabric from your stash--they don't take much! The finished size is 26" x 32" so they are quick to make, easy to quilt, and a great size for the wall or even for baby quilts.
Whew, it was an exciting day! I didn't even fall for any April Fool's jokes. (I hope.) I hope you all have a great day today. I'm going to look over my fabric (again) for Hat Trick. I've already "made up my mind" twice now on what to use. I'm going to have to make a final decision!
JoAnne